Telephone Answering Services
Our Call Handling Service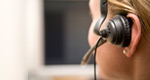 There is no substitute for the human voice. Any business, no matter what size, can't be successful if telephone calls are missed or mishandled. Callers respond positively to being dealt with personally and professionally.
The vast majority of people will not leave messages on answer phones or voicemail systems during normal working hours, unless it is first answered by a receptionist. Unanswered phones, engaged tones and call waiting systems are all extremely frustrating. Most people don't like badly designed automated routing systems (press 1 to hold, 2 to be cut off....).
The solution is our call handling service! Our aim is to give your callers the impression that our dedicated receptionists are one of your own employees working in your own office. Even though you may not be there to answer your calls, we are! All calls are answered in your business name and forwarded to your voicemail if needed.